Hilarious & weird personal dating ads collected over the years
Before everything became digital and Tinder-ised, personal ads were a great way of telling the world (beyond your immediate social group) that you were looking to meet someone or make new friendships.
Whilst the personal classifieds are still a popular way to connect (such as our own online classifieds version), this article shares a collection of hilarious (and weird) personal ads across the globe. Like they say, if you can capture the attention of the reader, you're half way to someone replying.
Some of the ads are so silly you have to wonder if the writer was actually looking for love or just clowning around. Probably a little of both. But, really, who cares? If you must look for love with a personal ad, why not have a little fun with it?
We could run some commentary around these but I think they speak for themselves… well sort of. For instance?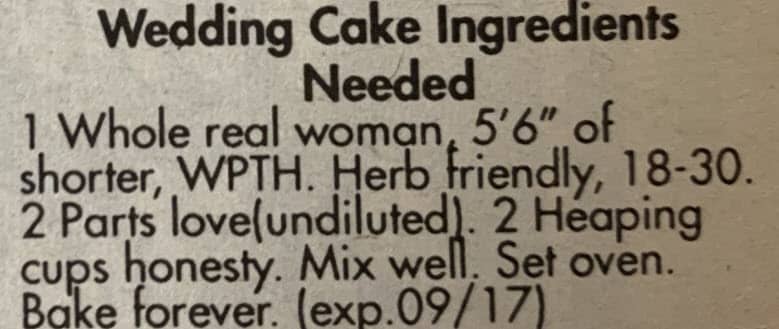 ---
Subscribe to our newsletter
---
---
Subscribe to our newsletter
---
Some more personal ads found online
and just when you thought there couldn't possible be any more bizzare personal ads … we found some more online!
Janet-79, widowed twice. Not looking to marry again, just want to date nice gentleman close to my age. I hold a black belt in Tae Kwon Do and am currently training in Judo. I know how to defend myself. So no perverts.
I'm Not Dysfunctional — You're not dysfunctional. The only girls I've been meeting are very beautiful, very depressed, very bulimic and very dysfunctional. If you are from a functional family and are attractive, intelligent, well-read, focused, sarcastic, and not taking Prozac — let's get together and celebrate. I am Jewish, 35, have long hair and unconventional good looks, have owned my own business for the last ten years, and am not the least bit sarcastic.
I'll Shoot My Dog! — If you don't answer this ad. Beautiful, green-eyed grad, 5'5", 120 lbs, seeks tall, Jewish, athletic guy, 34–39, for bike trips, jazz music, books and best friendship.
We Shouldn't — Be meeting like this. Sweet, smart, pretty, professional British woman, 50, seeks a wise, whimsical and basically wonderful man for lasting love.
81yo – Had enough commitment. Seeking someone for casual dating and romance. If it works you can move into my spare apartment. Both free to date others. Please be clean, kind, and have no criminal background. Be willing to be tested for drugs/STD's.
Somewhere Over the Rainbow — This Tin Man — a sweet, sincere, leading CEO with sterling character, devilishly handsome, heart of gold, body of steel, young, fit, tall, with multiple facets/degrees/residences/millions, lots of fun — seeks his Dorothy.
Brown-Eyed Girl — Attractive, long-legged Aussie woman, MD, with passion for rock & roll, Szechuan food, romantic comedies and the Stairmaster, seeking handsome professional man who can make me laugh. Must be over 5'10" and know who Neil Young is.
For Your Eyes Only — Optometrist — can write prescription for looking at life through rose-colored lenses. Single male, 49, muscular, 6', nonsmoker.
Hi! I am chubby and fun. If you squeeze me, love will ooze out of my pores for you. I want a girl that is nice and honest.
Needed quick! Date to family reunion. Three days, all expenses paid. Looking for man who is 30-45, tall, healthy, and smart. Must be comfortable with strangers, able to play endless hours of frisbee, and not a vegetarian. Must be either Christian or willing to pretend, have a good job, and like animals and kids. Please be well-groomed, too. Ironed clothes are a big plus. I am a 31 yo athletic brunette with brown eyes. Please don't respond if you don't think you can pretend to be my boyfriend.
BBW seeking chubby guy. Yes, I am heavy at 385 pounds. Im also 5'6. I don't wear makeup, i wear comfy clothes. My mom says i am a slob. whatever. I won't judge you on what you wear either. looking for guy between 20 and 60, with good teeth, maybe curly hair, and good hands.
I hate men. At least most men. I am looking for the man who can change my opinion.
THE END.
Inspired to post your own witty or hilarious personal ad?
Subscribe to our newsletter
---