Did you know that Facebook can track your activity on websites and mobile apps?
Learn more about your 'Off-Facebook Activity'
Facebook has given us a new way to glimpse in to just how much it knows about us – and you might be shocked or at least a little embarrassed by what you find.
Earlier this year, the social network made a long-delayed "Off-Facebook Activity" tracker available to its 2 billion members. It shows Facebook and sister apps Instagram and Messenger don't need a microphone to target you with those eerily specific ads and posts – instead, it is receiving your website and apps data direct from businesses sharing it.
Even with the Facebook app closed on your phone, Facebook still gets notified when you use another app (example Woolworths Rewards app). It knows when you've read an online article in the Financial Review or visited the news.com.au website.
It also knows if you've donated money online, or if you purchased something from Woolworths or Bunnings via their online shop cart. Even when your phone is entirely off, businesses can upload information about you making an in-store purchase.
The "Off-Facebook Activity" tracker will show you 180 days' worth of data that Facebook collects about you from the many organisations and advertisers in cahoots with it.
We visited a number of websites to test how recent the website / app history is shared with Facebook. Turns out, it is shared within 24 hours. What's more mind-blowing is that the function found 637 apps and websites by the user's activity which was shared. See screen shot below.
In short, Off-Facebook activity is a summary of activity that businesses and organizations share with Facebook about your interactions with them, such as visiting their apps or websites.
And considering recent data revealing that the Over 60s demographic are Facebook's most passionate users, we thought it was important to write about this function to provide transparency on the amount information that Facebook is tracking, the type of information being tracked and how it is ultimately being used.
Whilst our previous article shed light on how much personal information is stored and collected from your Facebook activity (Read article) – this article focuses on the Off-Facebook Activity function. It's also important to remember Facebook are now allowing full transparency on access this to 'see for yourself', although they are not exactly shouting about this from the rooftops.
You may see information such as:
The number of interactions they're received.
Interactions are things that you've done on an app or website. They can include:
– Opening an app.
– Logging into an app with Facebook.
– Viewing content.
– Searching for an item.
– Adding an item to a shopping cart.
– Making a purchase.
– Making a donation.
Activity from apps and websites you've logged into with Facebook.
This activity comes from businesses or organisations who use Facebook Login.
Activity from data service providers and marketing agencies.
If you don't recognise some of your activity, it may be because it was sent by a data service provider or marketing agency. Businesses and organisations may use third-party data service providers or marketing agencies to analyse and understand their customers' interactions on their apps and websites.
Activity that isn't related to any actions you've taken.
Some activity in your summary may include updates from an app or website that aren't related to an action you've taken.
How they received your activity.
Business and organisations can share your activity with Facebook when they use their Business Tools. Some of these tools include the Facebook Pixel, the Facebook SDK and Facebook Login.
Facebook uses your Off-Facebook Activity and your activity on Facebook to:
Show you more relevant ads.
Suggest groups, events or Marketplace items you might be interested in.
Help you discover new businesses and brands.
Help businesses and organisations understand how their website, app or ads are performing and whether they're reaching the right people.
Identify suspicious activity to help keep Facebook safe.
Facebook does state that they don't sell your information to anyone.
When you turn off your future off-Facebook activity
It's important to note the below (especially the last point):
Your future Off-Facebook Activity will be disconnected within 48-hours from when it's received.
If you choose to turn off your future activity for all apps and websites, you'll also disconnect all your past Off-Facebook Activity.
You may be logged out of apps and websites. In other words, if you use your Facebook login credentials to log in to other portals (such as Airbnb, Menulog, Instagram, Pinterest etc) – disabling your Off-Facebook Activity will prevent you from logging into such apps and websites in future.
For more information on how to manage your future Off-Facebook Activity, visit the Facebook FAQ section here.
There are some alternative ways to take more control over your information, if you would rather not turn off your Off-Facebook Activity feature. See below under the screen shots. If you want to turn off this funtion, see below steps.
Steps to turn off your Off-Facebook Activity
The below steps with supporting screen shots will allow you to turn off your Off-Facebook Activity:
Click the upside-down arrow icon at the top right of Facebook, and click Settings.
Click Your Facebook Information in the left column, then click Off-Facebook Activity.
Click More Options > Manage Future Activity > Manage Future Activity.
Click next to Future Off-Facebook Activity, then click Turn Off to turn off your future Off-Facebook Activity.
You also have the option to turn off your future Off-Facebook Activity for one app or website if that's preferred. Learn more here.
Screen shots to disable your Off-Facebook Activity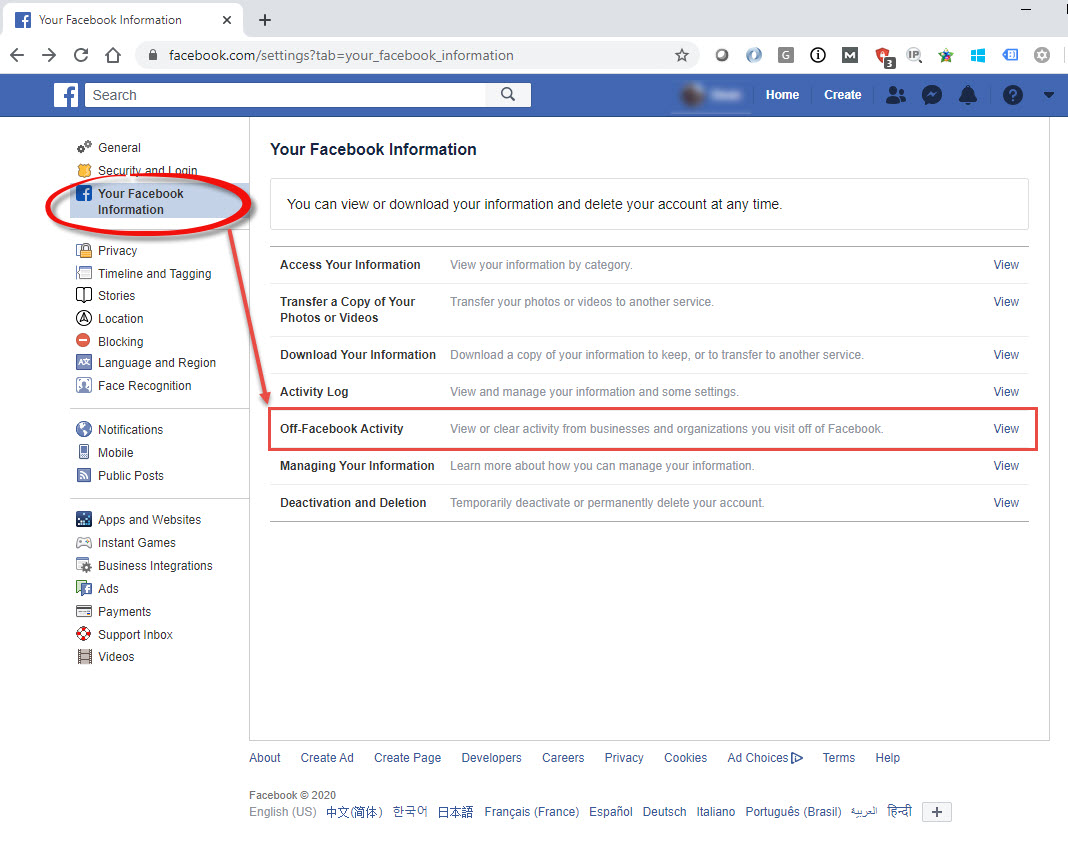 Alternative ways to take more control over your information
There are also other ways you can take more control over your information without turning off your off-Facebook activity. Here are a few ways to control your Facebook experience:
For detailed steps on how to download your Facebook activity data, read our blog How much does Facebook know about you? Export your Facebook data
Source:
– What is off-Facebook activity? Facebook FAQ. Read more
– How do I manage my future off-Facebook activity? Facebook FAQ. Read more
– Exactly how Facebook stalks you – and it's creepier than you thought. Financial Review. By Geoffrey A. Fowler, 29 January 2020. Read article
---
Subscribe to our newsletter
---